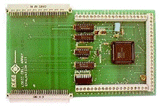 A 74LS688 used as programmable decoder to map I/O board addresses.
An HC374 output essential for writing control signals on LCA: DIN, CLK, PG RESET e M0/RT.
An HC244 input port essential for reading LCA signals: DONE e M1/RD.
An LCA 2064 Gate Array.
An HC32 essential for addressing the HC374 and HC244 with enabling/disabling RD/WR signals.