Line Impedance Stabilizing Network (LISN)
The LISN enables equipment manufacturers to test their products to establish that they do not generate interfering signals above the established limits on the live and neutral lines of the supply networks.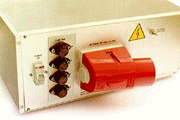 For use with a Spectrum Analyzer or measuring instrument for conducted emissions.
For measurements on live and neutral lines within the bandwidth of 150kHz - 30MHz.
OFF position for measurement of minimum noise or the presence of spurious signals.
Models with continuous 5A and 16A mono-phase, 25A three-phases power output.
On/Off transient protection.
The filter network is in accordance with the CISPR16 for band B.
Compact, light unit for bench use.